Drama.
1M; 1F.
Est. 40 minutes.
Unit set.
A compulsively precise, successful business woman is an inside trader, hiding from the law in an isolated cabin in Vermont. Her conscience, in the form of an unpleasant young man, shows up. Who's the sitting duck? Heavy hitting.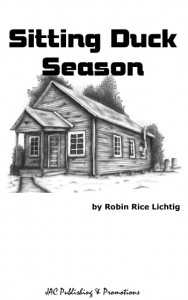 HONORS: Selected for production at Expanded Arts and Manhattan Theatre Source (NYC), Playwrights Theatre of New Jersey (Brigantine, NJ), Acme Theatre (Maynard, MA).
NOTE: Also see the screenplay, EYES ON PAULINA. It's about the same woman except this time she's on the lam in a van headed down the western seacoast, headed for Mexico.
For inquiries, contact the playwright.