HARMONY'S AUDITION reading with The Lafayette Salon Series — "hysterical" pretty much sums it up. That's "hysterical" in a good way.
– Brock Harris Hill, artistic director, PCTF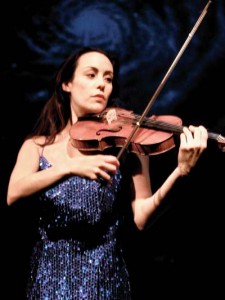 Drama.
4F, 3M, 1M/F.
Unit set with flexible space.
Zephyr, a creature from another planet, tells Harmony that she is one of five violinists being considered for the all-important Astral Symphony, but warns that giving birth might cause her to abandon her violin. While she's in labor, the next 18 years unfold in Harmony's painkiller-induced fugue state: She walks off the stage on opening night of a concert, newborn ("illegitimate") baby in tow, temporarily choosing motherhood over music. She has no idea that "temporary" could last 18 years and that she is risking losing her physical and mental ability to play the violin entirely.
In her dream state, Harmony finds that her hometown has turned into a circus. The inhabitants are strange, frightening, intrusive clowns. She barricades herself and her daughter in her house in order to raise her the way she sees fit. The girl suffers nervous spasms, both real and pretend. Harmony manages to blackmail half the teachers in school to protect her child. She refuses to touch her own violin until her daughter is strong enough to manage without her, choosing to encourage Lyrical's half-hearted but strangely facile virtuosity instead.
In her all too real dream, Harmony is sapped by her daughter. The girl grows in size, but also in dependency. As Lyrical's musicianship swells, Harmony's fingers wither. She fears she will never be able to play the violin again, let alone qualify for the Astral Symphony. If she can only make Lyrical strong enough to get through one big audition… If only she can keep her away from a sexy, immoral, murderous, faux-Italian conductor who is also in the running for the Astral (and one-by-one murdering the other contenders).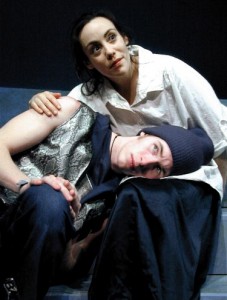 In a tension-filled audition, Harmony finds her power. Back to reality, she steps out on the opening night concert stage with both her violin and newborn baby, filled with confidence and strength.
HONORS:
– Early version, HARMONY, won the Maxim Mazumdar International Competition.
– Non-Equity production Alleyway Theatre, Buffalo, NY, directed by Tom Dooney.
REVIEWS: "For a classical music geek like me, the play is full of deliciously human undercurrents. It's a heartbreaking moment when Harmony confesses she has not picked up the violin in a year. " – David Arthur Bachrach (reading audience/NYC actor)
Alleyway's new production of HARMONY is a stunner! Adventurous theater lovers should take note and check out this fascinating production.
– Michael Klemm, Buffalo reviewer
NOTES: HARMONY was renamed HARMONY'S AUDITION following major script changes subsequent to the Alleyway production.
For inquiries, contact the playwright.
Dammit, you dazzle! How deeply you got us thinking tonight! It must feel wonderful to both entertain and provoke.
– Stark Wiltz, musician, NYC actor