A wonderful play. Lewis John Carlino called one of his plays a 'collage of voices,' a description that I think also fits SUKI LIVINGSTON OPENS LIKE A PARACHUTE.
– Barbara Kahn, NYC actor, director, playwright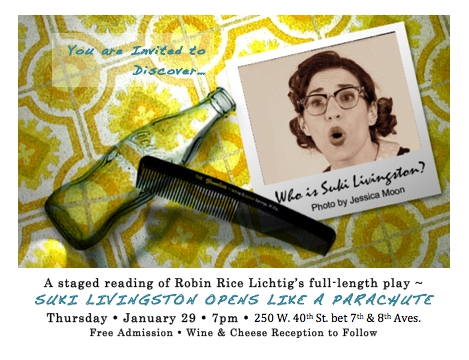 Drama.
3F; 2M (without doubling, cast size may be increased).
Est. 90 min.
Unit set with flexible space.
Suki Louise Livingston, 50, is a visual artist in New York City. As the first big break of her career looms, she is going blind and losing confidence at a rapid rate. Memories from a past she has taken pains to forget crash in unbidden. She can't see her hand in front of her face, but she sees the memories all too clearly.
One memory is of herself at age 12. Young Suki Lou "explodes time" and bridges the gap between her current life in 1954 and her future in 1990. She convinces her older self to accompany her into the past to unearth and paint forgotten memories in Louise's mind's eye. Louise/Suki experience events between the ages of 12 and 30, vivid occurrences during the repressive 1950s and volatile 1960s. Together they go through personal sexual awakening, Civil Rights activism, and Peace Corps training and enter a lifestyle which conflicts with a rigid New England upbringing.
A harmonica-playing memory (ever-present, ever-menacing, ever-enticing) is revealed to be a boy with a wild streak who touched Suki's heart in college. Others, drawn from real life, encourage her: pacifist Rev. William Sloan Coffin, John F. Kennedy, Martin Luther King, Jr. The grown woman's youthful confidence returns. Again she faces the most difficult decision of her life, this time knowing she made the right decision. The past works with the present and the present helps the past. Suki Louise faces what has been crushing her spirit. Strengthened, she can continue the dream she had since childhood: she paints.
Premiere available.
SET REQUIREMENTS: Stage may be bare except for essential set pieces.
NOTES: Cast size may be expanded up to 31 depending on how the smaller roles are divided. Male and female roles may be assigned as desired.
SCRIPT EXCERPTS AND AVAILABLE AT:
newplayexchange.org
For inquiries, contact the playwright.