"Your words mean so much. They always give me something to seriously think about."
– Michael Wells-Oakes, NYC actor and playwright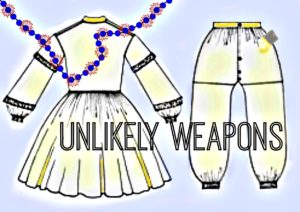 Drama.
2F; 1M.
35-45 minutes.
Unit set.
A young woman's mother is an activist for equal rights. She wants to join the fight, but her mother is such a powerhouse it throws her into a tailspin and she is unable to do anything at all.
An ancestor (a real person from the past), Susannah Way Dodds, comes to the young woman's rescue. A true story about her own struggles with equality is reenacted in a dramatic scene in which Susannah stands up to the trustees and president of Antioch College at her graduation ceremony in 1866.
The young woman finds the strength to venture forth on her own path and founds a beading cooperative with women in Mexico — a cooperative which actually exists today. (Information about the co-op is included with the script.)
UNLIKELY WEAPONS was written for the international 365 Project — women playwrights writing about real women who have changed the world.
PREMIERE AVAILABLE.
For inquiries, contact the playwright.