Articulate Theatre Company is all about myth, magic and the mundane, and Robin Rice's magical writing has been the highlight of several of our productions. Weaving stories of wolves, doormen, Vermont cats, and TV anchors into a mythic stew, there's nothing else quite like a Robin Rice play!
– Cat Parker, Artistic Director, Articulate Theatre Company
Comedy with some drama.
Full evening.
11M; 10F; 4M/F (but many fewer with doubling).
Unit set with a few set pieces.
Nine short plays are mostly just plain fun. Some but not all are appropriate for children. Each play has at least one animal character. Most are around 10 minutes long.
BRONCO BUSTER – Sculptor's vision of the Wild Wild West doesn't match reality. 2M; 1F. (an idealistic artist, a crusty cowpoke, a broken-down horse)
SAVE THE TURKEY! – Young turkey wants to serve his country but Mama Turkey disagrees. 2M; 2F. (a clueless farmer, boy turkey and his mom, Martha Stewart)
YOLO – Meeting cute in a Russian Starbucks. 2F; 1M. (a flexible gymnast, a disgusting troll, a player rabbit)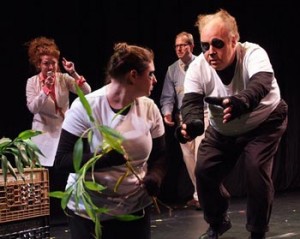 BUDFUD129ZK – Patriotic scientist chooses between love and country. 2M; 2F. (a patriotic scientist, a lovesick salesman, two cuddly panda bears)
THE STRAIGHT AND NARROW – Nuns search for the right path. 2F; 1M. (a serious nun, a young nun, a sexy penguin)
VIRAL PIZZA – A bored cat and hungry mouse use technology to resolve their conflict. 2M/F. (a bored cat, a hungry mouse)
IT'S ALL IN THE BREAST – Boys will be boys. A super short play. 2M. (teenage male turkeys)
ADAPT OR DIE – A male Bowerbird does his best to attract a female, but his mating dance sucks. 1M; 1F. (an artistic male bird, a fussy female)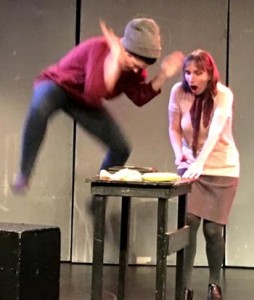 PROBABILITY – Evolution is reversed in the future. 2M/F. (humans devolving into apes)
NOTES:
– All nine plays do not have to be included in a production, but the evening will still be called MENAGERIE by Robin Rice. Director/producer may decide the playing order.
– Please, no full-out animal costumes. Imagination is more dramatic, funny, and theatrical.
Premiere available.
For inquiries, contact the playwright.