You often hear parents instructing their children to "Play nice." In the New York premiere of Robin Rice's PLAY NICE! at 59E59 Theaters, those words go much further, delving into the realm of dark and often frightening illusion. Inspired by Jean Genet's THE MAIDS, PLAY NICE! is a dark fairy tale with an ebb and flow of theatricality and gritty realism that taxes your imagination.
– Elizabeth Ahlfors, Curtain Up review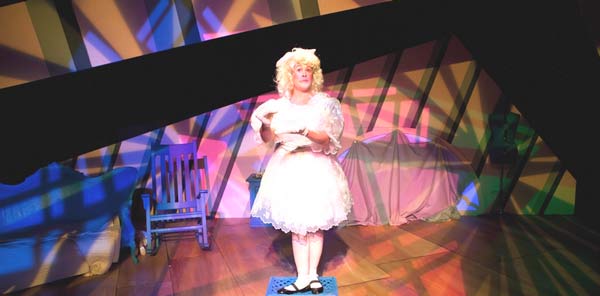 PLAY NICE!
Drama.
3F, 1M.
(Teens to early 20s, though may be cast older.)
90 min.
Unit set with flexible space.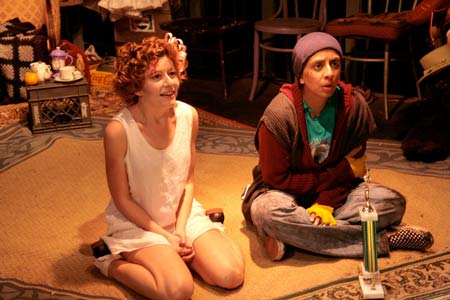 A play about the power of imagination. Someone poisoned the Diamond siblings' mother, the Dragon Queen, in their uptight suburban community in New Jersey. Reality isn't one-dimensional. Pretend is sometimes more real than what you see in front of you. Isabel and Luce have the ability to enter each other's minds. This will turn out to be a handy skill in helping each other discover who poisoned Mother and what they can do to avoid her rage when she returns.
With Mom in the hospital overnight, her children (preteen-early 20s) frantically sharpen coping mechanisms to be armed for her homecoming. Isabel's refuge has been pretend (she hides in a box labeled "Danger – Mad Rabbit"). Luce marches with extreme focus with his high school flag squad. Put-upon, plodding Matilda cooks and lies.
Now, Matilda plans to keep her sister permanently hidden in the attic. "She'll think you went to live with relatives." Isabel manipulates Matilda into a reenactment of the tea party which climaxed in Mom's poisoning. The frightening game of pretend doesn't go far enough for Isabel to remember what happened. Angry, Isabel travels in her mind to the mental hospital where Luce is trying to correct a marching mistake he made the previous day. Luce won't come home. Matilda agrees to play Mom in another reenactment. Stakes grow; level of pretend deepens, widens; new relationships are uncovered; new blockades to a tolerable level of living arise.
Isabel learns who poisoned Mom. Matilda tries to drink poison herself to stop the cycle of abuse, but Isabel takes the reins. She has figured out a way to make Mom happy, but needs Luce home. Luce has his own problems. Joanie Calliope, a resident at the hospital (or perhaps she is make-believe entirely), needs the exact spot Luce has marked out to do his mistake-fixing march. They struggle for possession of the space. Isabel is torn between the attic and Matilda and her battle to get her brother back home to help in the bigger battle – the one against Mother.
Finally, Luce marches home. Isabel's plan is set in motion, with Joanie as the linchpin in an ending which puts a capital "P" on Pretend.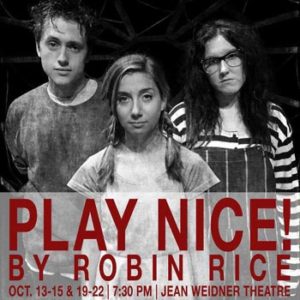 SET REQUIREMENTS: Since the play is about imagination, the set should be creative and impressionistic rather than realistic. It could be very minimal.
HONORS and REVIEWS:
– The UWGB production was chosen for presentation at the 2017 Kennedy Center American College Theatre Festival.
– Review of UWGB production.
– Invitational residencies at Cleveland Public Theatre and Will Geer Theatricum Botanicum (Los Angeles).
A refreshingly original play. Ninety-five minutes of watching such diehard sibling devotion might make you desperate to call yours the second the curtain falls.
– Elizabeth Ahlfors, Curtain Up review
NOTES: PLAY NICE! is a perfect play for high schools and colleges.
VIDEO: From production at University of Wisconsin-Green Bay (by Cory Von Ruden).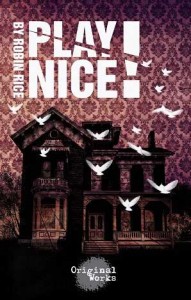 SCRIPT EXCERPTS AND AVAILABLE AT:  PLAY NICE! is a new publication of Original Works Publishing, available in print, and for Kindle and Google Play. To read a script sample and to order, go to originalworksonline.com
MORSELS THREE
Drama.
4M.
(Teens to early 20s, though may be cast older.)
90 min.
Unit set with flexible space.
All-male version of PLAY NICE! The play was inspired by Jean Genet's THE MAIDS. Genet wanted his play performed with an all-male cast. In MORSELS THREE, however, the roles are not for women but for young men. The story of PLAY NICE! is turned inside out to examine what would happen if the siblings were boys and their new "friend" is also a boy.
Premiere available.
Siblings live through childhood trauma in a surrealistic blend of imagination, playing through situations and memory in a powerful piece that uses childhood games to chilling effect.
– Alan Woods, Theatre Archives at Ohio State
For inquiries, contact the playwright.