Women w/o Walls is a wonderful ensemble piece for a diverse group of women. It was exciting to work on the world premiere in Los Angeles, especially since Robin was able to come out and join the process.
– Esther Mira, Actor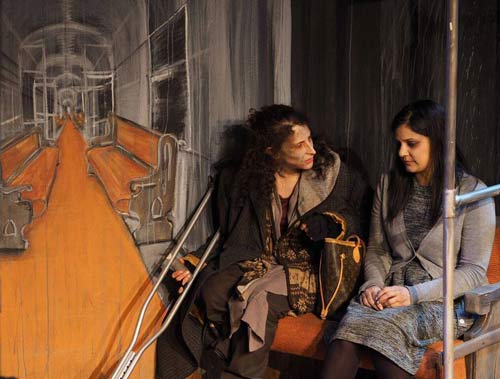 Drama.
4F.
Est. 90 min.
Unit set.
A theatrical, absurdist, contemporary trip inspired by Sartre's "No Exit" and Dante's "Inferno." A nurse is the conductor on a subway train hurtling toward a destination which is unknown by two of the three passengers.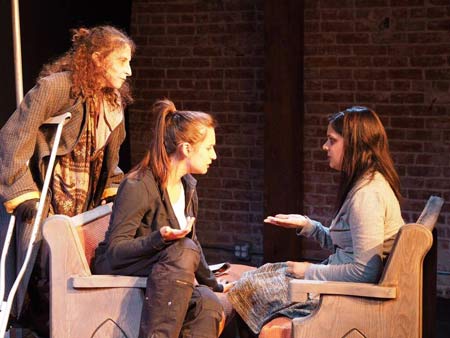 A student is consumed with appearing perfect. She is so afraid of making a mistake that she can't make choices. A homeless, one-legged beggar is determined to find love. The third passenger must have music constantly in order to maintain sanity. Finally, the student lets down her guard and learns what it is she needs to know about herself. Fortified, she plays her flute to stop a violent fight that breaks out. In the end, each has what she needs, but it's too late to get off this train that's headed to death.
Women w/o Walls is existentialism at its finest and will pose the question, when your journey ends, which color will you choose?
– Rachel Flanagan, Discover Hollywood
SET REQUIREMENTS: The play may be performed on a stage that is bare of everything except boxes to represent the seats in a subway train car. A production should have the ability to black out everything except the inside of the train and lights and sound to represent passing trains.
HONORS:
– Chosen for NY reading by The League of Professional Theatre Women.
– Early version, WHITE LIGHT, Ohio Fringe Festival, MadLab producer.
– Workshop production, WonderWorks Productions, director Handan Ozbilgin.
– Villagers New Playwrights Series reading (NJ), director Annette Fielder.
– Resonance Ensemble reading (NYC), director Michelle Haines.
REVIEWS:
– theatreghost.com
– broadwayworld.com
– zahirblue.blogspot.com
– discoverhollywood.com
SCRIPT EXCERPTS AND AVAILABLE AT:
newplayexchange.org
For inquiries, contact the playwright.
All the words and performances and the rest had opened my eyes to let me know what the ending would have to be, must be, naturally flowed from every detail. And my reaction? My hand went to my mouth, a tear welled in my eye, and in my mind the words "Yes, of course" echoed.  The revelation stood revealed, complete. And Was Good.
– Zahir Blue, Los Angeles blogger