It all started with three nuns dashing through cobblestoned streets, through the crowds at an arts festival in DUMBO on the Brooklyn waterfront last weekend. The nuns shouted: Mercy! Mercy! as they ran, chased by seven black-clad, fierce-looking men wielding strange black weapons.
– Review of DUMBO production directed by Brian Kenneth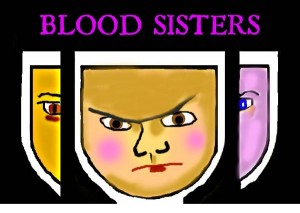 Drama (based on true events).
3F (and unseen male voice; for larger cast, see Notes below).
15-20 minutes.
Unit set with flexible space.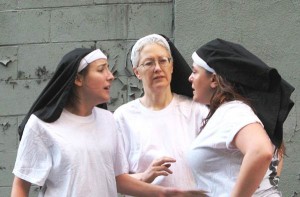 Three nuns, Sister Ardeth Platte, Sister Jackie Marie Hudson, and Sister Carol Gilbert, deface a nuclear missile silo cover in an anti-war protest in Colorado in 2003. They are arrested and sentenced to jail. Based on real people and true events. Hits you in the heart.
HONORS:
– Select productions: 365 Project, South Camden Theatre Company (NJ), 3Graces (NYC), SWAN Day (Washington, D.C.), Women's Will Theatre (Phoenix), Mills College (CA), Theater for the New City (NYC), Polichicks (Tucson), Teachers Theatre (NJ), 13th Street Rep., NYC.
NOTES: This play may be opened up to include a sort of Greek Chorus who will speak the Judge's lines, echo important statements, provide sound effects, commentary and movement. If interested in this approach, please contact the playwright to discuss.
PUBLISHED:
Next Stage Press. In a collection of three one-act plays: WHEN SILENCE IS NOT GOLDEN.
SCRIPT EXCERPTS and AVAILABLE AT:
New Play Exchange
For inquiries, contact the playwright.