Challenging and rewarding theater!
– Michele Travis, NYC director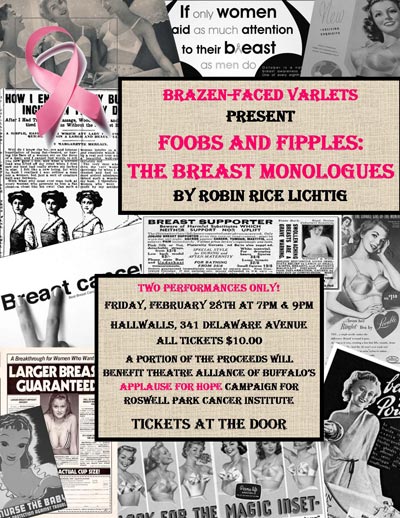 Drama and comedy.
3-17F.
Full evening.
Bare stage.
A playwright realizes that no one has ever written a play about one of the most entrancing, bothersome, nourishing, aggravating, flaunted, taboo, and sexy subjects there is: female breasts. She interviews 15 women and girls across America — all ages and sizes, different ethnic backgrounds, income levels, beliefs and lifestyles. (Actually she interviews 13 women and two breasts.) The women are seen recounting their stories as they lived them.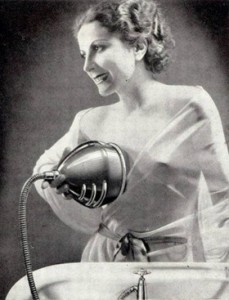 One woman takes us back to her introduction to a kinky breast washer, all the rage in France in 1935. A contemporary girl in California is outraged when her parents don't get her breast implants for her 16th birthday. A New Yorker doubles down at the gym when her breasts refuse to defy her advancing age. Two new mothers come to grips with nursing pressures.
Left Breast and Right Breast go through the discovery of a lump with their woman. Later, they endure a mammogram. Finally, one of them is reduced to practically nothing physically after a mastectomy, but she foregoes reconstruction in order to serve as a warning to others.
An outpouring of stories as more girls and women speak — up and down the west coast through the midwest and south to the northeastern United States. They tell a patchwork quilt of breast stories that touch on the universal through the personal.
The monologues may be performed by three to 17 actors. Age, ethnicity, shape and size should vary across the spectrum. All performers are female. All of the monologues don't need to be performed. The order may be adjusted and only selected monologues performed if desired. An intermission may be included or not.
The monologues:
PROLOGUE. Playwright/Interviewer. Age 50+.
THE LORD'S DESIGN. Rita. 30-50. Fundamentalist Christian. Tennessee. Present.
RAMPANT. Rainbow. 25. Nonconformist. A hippie. Seattle. 1974.
DEFYING GRAVITY. Susan. 60. Jewish. Defiant. Slender. Toned. NYC. Present.
LUMPY-LUMP. Two Breasts (on one woman). Age 45. Present.
DEAR SANTA. Candy. 12. Innocent, hopeful. Vermont. 1950.
PROS AND CONS. Juanita. 25-40. Tough, undecided. Southern Texas. Present.
LILLIAN THANKS GOD FOR PARIS. Lillian. 50. Sheltered. Rural Ohio. 1938.
TIFFANY'S SWEET SIXTEEN. Tiffany. 16. Mortified. Los Angeles. Present.
MAMMOGRAM. Two Breasts (same as #5). Present.
FOOBS AND FIPPLES. Laura. 29. Positive. Kentucky. Present.
NOURISHING DAUGHTERS. Two new mothers. 20s. New Jersey. Present.
MAXINE MAXIMIZES. Maxine. 30-50. Determined. Small breasts. Present.
BETTY'S BREAST-WASHER REPORT. Betty. 15. Studious. Maine. 1935.
WALKING BILLBOARD. Two Breasts (same as #5). Present.
MARGIE'S LIFELONG ULTIMATE BUCKET LIST. Margie. 50-60. Plus size. Painfully self-conscious. North Carolina. Present.
Premiere available.
For inquiries, contact the playwright.