I was quite taken by (Robin's) ear for dialogue and the breadth and control of her narrative.
– Adrien-Alice Hansel, literary manager, Actors Theatre of Louisville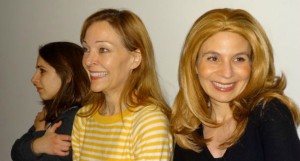 Comedy-drama.
4F; 1M/F.
Est. 90 min.
Flexible Staging.
Edna Mae, 25, is dying to escape from rural town of Mission Creek, Ohio, and become an artist. She has an opportunity to go to The Museum School in Boston, but must win a scholarship by submitting an exceptional painting. As she tries to create, obstacles mount. Her imaginary friend insists she pay attention to her appearance since a potential husband will arrive soon. People in the town refuse to pose for the painting. Edna Mae finishes the painting, but it isn't good enough. Pressures to conform lead her to marry and her husband insists she pack away her art supplies and pay attention to him and their children. Her eyes gradually cannot see color, only sepia.
Twenty years pass. At age 45, Edna Mae and her real best friend take a trip to San Diego where Edna Mae's eyesight improves rapidly. At first she obediently plans to return to Mission Creek, but when she recounts how her husband destroyed all of her artwork she realizes she can't go back.
Twenty years pass. Edna Mae, 65, is in San Diego — almost homeless, barely scraping by, but happy as a clam. She is intent on finishing a collage, but is interrupted by a young woman. Unbeknownst to Edna Mae, this is the granddaughter she never met, who has also run away from Mission Creek. Eventually, Edna Mae recognizes a kindred soul. She stops pushing the young woman away and actually invites her into her creative process. Edna Mae's journey is complete.
Premiere available.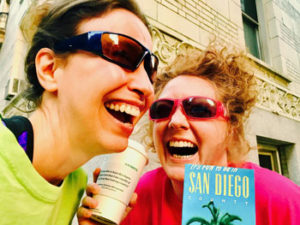 SET REQUIREMENTS: One spare Starbucks set can be used as flexible space.
SCRIPT EXCERPTS AND AVAILABLE AT:
newplayexchange.org
HONORS. Nominated for Outstanding Playwriting for a New Play at Planet Connections Theatre Festivity (plus two nominations for Outstanding Acting). Producer: Kenny Wade Marshall.
REVIEWS. "(The playwright's) way with words is fun, exciting and involving! I felt I knew each character, their town, their whole world in every way — yet the play is expressionistic. The past, present, and future touch each other in such a cool way. The last scene when the granddaughter searches for her grandmother, with the grandmother's friends (both imaginary, dead and alive) shining the granddaughter's way was so great! I was moved. It was one of those moments when I was surprised, satisfied, and happy. Art and love connecting over generations." – Michael Oakes, audience member/playwright, NYC
For inquiries, contact the playwright.