A theater company's dream: a play that features an authentic narrative arc, elegant language and characters with real depth and humanity.
– Kate Cox and Deshja Driggs Hall, (co-artistic directors, This Woman's Work Theatre Co. NYC)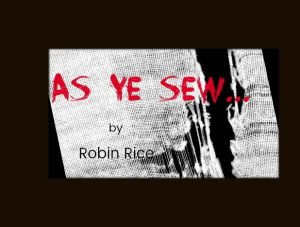 Drama.
2F/1 gender fluid.
Est. 90 min.
Single Set.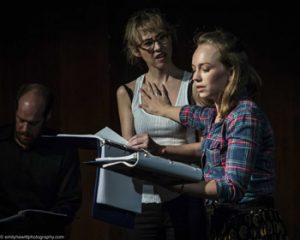 Agnes has a secret so dark she has buried it from her conscious mind. She moved from her home in Vermont to get away from everything that triggers it — especially her younger sister, Bella. In North Carolina, Agnes has found love with Maddie, a writer. The two have been happy as clams until today. Suddenly, Agnes is hit with an avalanche of triggers — not the least of which is a surprise visit from her sister. With Bella's arrival, magical realism in definitely in the room.
Agnes and Maddie don't realize that Bella isn't alive. She's not dead either. She's stuck between alive and dead and needs Agnes' love to travel forward. This is Bella — more tuned into the Universe than mere mortals can ever hope to be. Agnes wants badly for Bella to leave before her secret is revealed. She fears the revelation will cause Maddie to not love her anymore. Bella is determined to uncover Agnes' secret before the window for reincarnation closes in the morning.
Meanwhile, Maddie has a secret of her own. She is supposedly writing a book about an adventure she had while caving, but "Spelunking to Self-Discovery" isn't happening. Their financial stability depends on the book, but Maddie hasn't been able to write.As Bella says: This place is a garbage dump of secrets!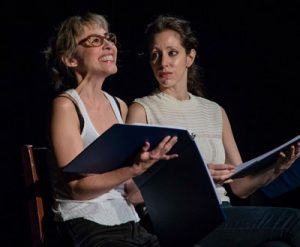 Maddie and Bella join forces to pressure Agnes into opening up. Agnes' method of coping is sewing. She sews covers to hide imperfections — tablecloth for scratched table, curtains for cracked door, clothes for herself… Maddie and Bella push and push. Bella takes her sister back through time. Agnes won't yield. She hangs onto her secret tightly until finally she realizes Bella isn't alive and she must come face-to-face with her secret to regain the ability to love. Otherwise, Bella will be stuck in a nowhere place forever. Agnes resolves to go into Maddie's cave. There's a legend about the ballroom in the cave that promises strength and new clarity to those who go there. Maddie hasn't returned to the cave for good reason, but now she bites the bullet and goes with Agnes.
In a magical, evocative sequence, Agnes and Maddie travel through the cave to the ballroom. Agnes relives the horrible memory she has been suppressing and faces her fear. Now Bella can move forward in her personal reincarnation cycle, and Agnes' and Maddie's love can begin again on a new and stronger path.
Premiere available.
"Rich in symbolism and language. Delicious roles for actors, and a set that's a designer's dream. Robin Rice rips the fabric to expose a fantastical world."
– Kim E. Ruyle
HONORS:
– One-act version premiered at Bailiwick Rep. (Chicago) as winner of Lesbian Theatre Initiative.
– Finalist for the Jane Chambers Award (as "Embracing the Undertoad").
– Workshop productions: New York and Seattle.
– Staged reading, NYC, presented by 29th Street Playwrights Collective.
REVIEWS: This play covers the twists and turns of life. It reveals the enormous depths of humor, love, anger, envy and beauty of gay relationships. A wonderful play that should not be missed. It will touch your heart. – Milan and Michael (review of Bailiwick production, Boystown Club, Chicago)
READ THE SCRIPT: newplayexchange.org
For inquiries, contact the playwright.