"Honey's Smile"  is a perfect show for youth actors. Casting can be incredibly flexible with all of the Leaves and Minnows. This gave every single one of our students a moment to shine. The play also carries such a wonderful message of the importance of home and family. 
– Kenny Wade Marshall, NYC director
HONEY'S SMILE, one-act play with music for children.
EYES ON PAULINA, a short screenplay.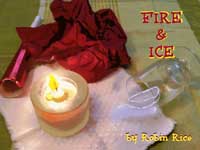 FIRE AND ICE (A Radio Play). Comedy. 1M; 2M/F. (~11 min.) The Twilight Zone is transformed into The Lair of Love. In this broadcast, a sexy ice cube and dramatic candle flame give in to passion for each other despite inevitable tragic consequences. First produced by Articulate Theatre Company, NYC.
This play freakin rocks!
– Wendy Mae Shelton – NYC director and playwright
SAVE THE TURKEY! (A Radio Play). Comedy. 2M; 2F. (~10 min.) On the day before Thanksgiving, Farmer Brown (who may remind you of a certain U.S. President) calls on the aid of Martha Stewart to deal with Tom Turkey and his intellectual, protective mother.
Robin's voice resounds in universal relevance.
– Coni Ciongoli-Koepfinger, playwright