"Honey's Smile"  is a perfect show for youth actors. Casting can be incredibly flexible with all of the Leaves and Minnows. This gave every single one of our students a moment to shine. The play also carries such a wonderful message of the importance of home and family. 
– Kenny Wade Marshall, NYC director
HONEY'S SMILE, one-act play with music for children.
EYES ON PAULINA, a short screenplay.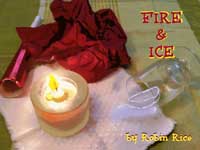 FIRE AND ICE (A Radio Play). Comedy. 1M; 2M/F. (~11 min.) The Twilight Zone is transformed into The Lair of Love. In this broadcast, a sexy ice cube and dramatic candle flame give in to passion for each other despite inevitable tragic consequences. First produced by Articulate Theatre Company, NYC.
Robin's voice resounds in universal relevance.
– Coni Ciongoli-Koepfinger, playwright