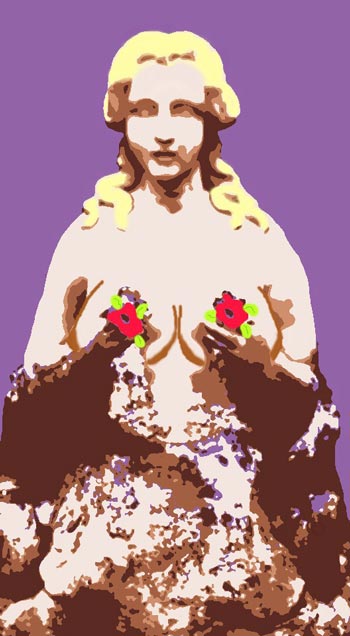 Drama with comedy and a healthy dose of magical realism.
8-21F depending on doubling – see Note below.
Est. 90 min.
Unit set with flexible space.
In a cabin on a North Carolina barrier island, Margie reaches the breaking point. She has always had issues with the size of her body, but when her boyfriend breaks up with her, calling her Fat Pig, she is crushed. She pledges to never go outside again. Her breasts, Lucy and Ruby, are determined to give Margie the confidence she needs to go forward with her life, find a new boyfriend and have the baby she longs for. In her distress, Margie hears Lucy and Ruby's voices for the first time. They proceed to call on the World-wide Women's Breast Network to bring pairs of breasts from all over to tell stories that will boost Margie's self-esteem. Some of the stories work, many don't. Meanwhile, one of Margie's breasts has developed a lump. Finally, energized by an unlikely story, Margie seizes the reins of her life.
NOTE: With creative casting, many roles can be doubled, tripled or quadrupled. Only Lucy, Ruby and Margie cannot be double-cast. Age, ethnicity, physical type should vary. Breast pairs have the same coloring and are the same size as each other (or darn close). All actors must be female.
INDIVIDUALS:
– MARGIE. 35. Large woman. Painfully self-conscious. Rural North Carolina. NANCY. 25. New mother. Affluent town in northern New Jersey.
– JENNIFER. 30. New mother. Affluent town in northern NJ.
– CHARLENE. 25-40. Saleswoman. Playboy-bunny breasts. JANE. 30-50. Fundamentalist Christian. Tennessee.
– PAIRS OF WOMEN'S BREASTS: LUCY + RUBY. 35. Margie's large Breasts. LILY + RUTHIE. 12. Tiny. Minnesota. LUISA + ROSA. 40s-50s. Ready for a party. Mexico. LEAH + RIVKA. 60. Losing youthfulness. Jewish. New York.
– LUCINDA + ROMA. 80. Withered. Southern Ohio. LOUISE + RAINA. 11. Slightly different sizes. Ohio.
– LOLLIPOP + RAINBOW. 16. 32-B. Los Angeles. LINDA-LEE + REBA. 2. New. 34-C. (Their woman is 29.) Kentucky.
Premiere available.
For inquiries, contact the playwright.