Funny, heartfelt, pointed, FEATHERS FLY is an insightful comment on American environmentalism, the press, the power of celebrities. What makes it most poignant is that it is based on actual events. I loved directing (a reading of) this gem!
— Daedra Kaehler, director (NYC)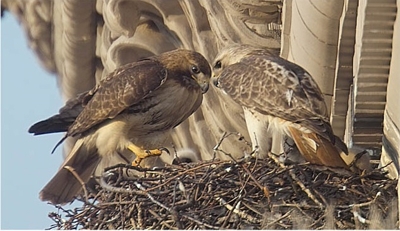 Drama with comedy.
2M; 4F.
Est. 90 min.
Unit set with flexible staging.
So what's the true story behind the headline-making uproar about Lola and Pale Male, the two redtail-hawks who were dispossessed from swanky Fifth Avenue apartment building in New York City. The play pits Mary Tyler Moore against Paula Zahn in a knock-down, drag-out battle for the rights of the common man and birds.
The main characters are Hispanic. The play is a parallel look at haves and have nots in today's America.
Premiere available.
Just saw a reading of FEATHERS FLY by Robin Rice. I had a blast working on one of her plays last year. Anybody looking for plays should hunt her down now. Her work always connects with the audience. Very funny and very honest work. We need more writing that challenges the standards and breaks the rules. Lovely moments of heart breaking reality followed by magical moments of theatrical poetry … and this play just had its FIRST reading. Great work and congrats!
— William Webber, NYC actor, from FACEBOOK, January, 2014
For inquiries, contact the playwright.